My Blog
Posts for tag: teeth whitening
By Grand Strand Family & Esthetic Dentistry
February 02, 2018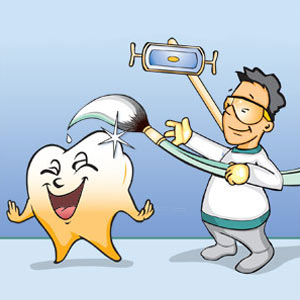 Home whitening kits are a popular way to turn a dull smile into a dazzling one. But these self-applied products only work for teeth with outer enamel stains — if the discoloration originates inside a tooth, you'll need professional treatment.
Known as "intrinsic staining," this type of discoloration most often occurs within a tooth's pulp or dentin layers. There are a number of causes like tooth trauma or tetracycline use at an early age. A root canal treatment used to remove infection from deep within a tooth can also cause discoloration: sometimes blood pigments left after tissue removal or the filling materials themselves can stain a tooth's interior.
Intrinsic staining can often be treated by placing a bleaching agent, usually sodium perborate, into the tooth's pulp chamber. But before undertaking this procedure on a tooth that's undergone a root canal treatment, we want to first ensure the filling is intact and still adequately sealing the tooth from infection. We also want to make sure the supporting bone is also healthy.
If all's well, we access the pulp in the same way as the root canal treatment, and preferably through the same access hole. We then clean out the pulp chamber of any stained matter and then ensure the root canals remain filled and sealed off from the pulp chamber.
We can then place the bleaching agent into the pulp, a process that will need to be repeated every three or four days to achieve the desired level of brightness. After each session we place a cotton pellet over the opening and held in place with a temporary adhesive; we can easily remove and re-apply this covering during subsequent sessions. Once we've achieved the desired color change, we seal the tooth with a permanent filling and restore the access cavity with a tooth-colored composite resin material bonded to the enamel and dentin.
There are other options for an intrinsically stained tooth like veneers or crowns that outwardly cover the discoloration. Internal bleaching, however, is a more conservative approach that causes less alteration of the tooth. If successful, it can restore a stained tooth to a brighter, more attractive shade.
If you would like more information on internal bleaching, please contact us or schedule an appointment for a consultation. You can also learn more about this topic by reading the Dear Doctor magazine article "Whitening Traumatized Teeth."
By Grand Strand Family & Esthetic Dentistry
November 11, 2015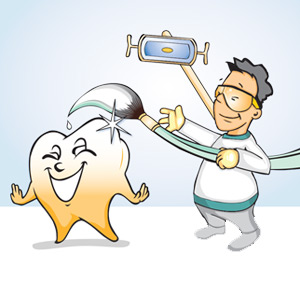 Whether performed in a dental office or using a home kit, teeth whitening applications are quite effective for bleaching exterior (extrinsic) stains on enamel surfaces. But what if your discoloration comes from inside the tooth? In this case, extrinsic teeth whitening won't work — you'll need to undergo an "internal bleaching" method, which can only be performed in a dentist's office.
There are a number of causes for "intrinsic" staining, including too much fluoride exposure or tetracycline use during childhood. One of the more common causes, though, occurs from root canal treatments used to remove the remnants of the pulp tissue inside a tooth's pulp chamber and root canals. Certain cements used during the procedure to help seal in the filling material and leftover blood pigments can cause the tooth to darken over time.
To alleviate this discoloration, we use a bleaching agent, usually sodium perborate mixed with a diluted solution of hydrogen peroxide to achieve a safe, accelerated color change. After determining that the root canal filling is still intact and the bone is healthy, we create a small cavity in the back of the tooth to access the pulp chamber. The chamber is cleaned of any debris or stained material and then thoroughly irrigated. The original root canal filling is then sealed off to prevent leakage from the bleaching agent.
We then place the bleaching agent in the cleaned-out space with a cotton pellet and seal it in with a temporary adhesive. This step is repeated for several days until we achieve the desired shade of white. Once that occurs we then seal the dentin with a more permanent filling and then restore the cavity we created with a composite resin bonded to the enamel and dentin.
If we're successful in achieving the desired color, intrinsic whitening could help you avoid more costly options like veneers or crowns for an otherwise healthy and attractive tooth. The end result would be the same — a beautiful smile without those unsightly stains.
If you would like more information on treating internal tooth stains, please contact us or schedule an appointment for a consultation. You can also learn more about this topic by reading the Dear Doctor magazine article "Whitening Traumatized Teeth."
By Grand Strand Family & Esthetic Dentistry
December 04, 2014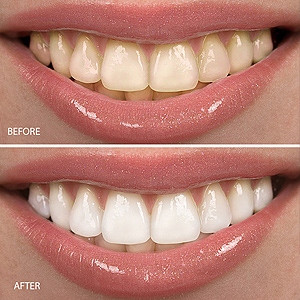 Bright, naturally white teeth are a key component in a beautiful smile. But the opposite is also true: nothing diminishes an otherwise attractive smile more than stained or discolored teeth.
There is good news, however, about tooth staining: it can be greatly reduced with the right whitening technique. But before taking action we need to first uncover the cause for the staining — whether from the outside or inside of the tooth, or a combination of both.
If it's an external cause — known as extrinsic staining — our diet is usually the source. Foods and beverages that contain tannins, like red wine, coffee or tea fall in this category, as do foods with pigments called carotenes as found in carrots and oranges. Besides limiting consumption of stain-causing foods and maintaining daily oral hygiene, you can also diminish extrinsic staining with a bleaching application.
There are two basic ways to approach this: with either a professional application at our office or with a home kit purchased at a pharmacy or retail store. Although both types use similar chemicals, the professional application is usually stronger and the whitening effect is obtained quicker and may last longer.
Discoloration can also occur within a tooth, known as intrinsic staining, and for various reasons. It can occur during tooth development, as with childhood overexposure to fluoride or from the antibiotic tetracycline. Poor development of enamel or dentin (the main sources of natural tooth color), tooth decay, root canal treatments or trauma are also common causes of intrinsic discoloration.
There are techniques to reduce the effects of intrinsic staining, such as placing a bleaching agent inside the tooth following a root canal treatment. In some cases, the best approach may be to restore the tooth with a crown or porcelain veneer. The latter choice is a thin layer of dental material that is permanently bonded to the outer, visible portion of the tooth: it's life-like color and appearance covers the discoloration, effectively renewing the person's smile.
If you've been embarrassed by stained teeth, visit us for a complete examination. We'll recommend the right course of action to turn your dull smile into a bright, attractive one.
If you would like more information on treatments for teeth staining, please contact us or schedule an appointment for a consultation. You can also learn more about this topic by reading the Dear Doctor magazine article "Teeth Whitening."