My Blog
Posts for tag: teeth grinding
By Grand Strand Family & Esthetic Dentistry
June 19, 2020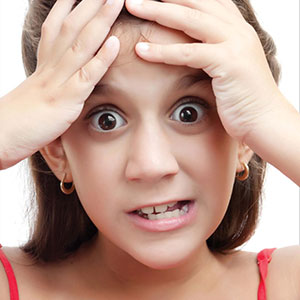 First the bad news: Those nightly hair-raising sounds are indeed coming from your child's bedroom—from your child. It's the result of them grinding their teeth while they sleep.
But here's the good news: the only likely harm is a lack of sleep members of your household might experience because of it. Teeth grinding is so prevalent among pre-teen children that many healthcare professionals consider it normal. But that doesn't mean it can't become a problem, so it's worth monitoring.
Teeth grinding is part of a family of dental habits known as bruxism. It involves any involuntary movement of the teeth and jaws outside of their intended functions not associated with chewing, speaking or swallowing. Our main concern with any bruxism is the possibility for generating stronger biting forces than normal that could damage teeth and gums and contribute to jaw joint problems.
Teeth grinding can occur in adulthood, with stress seeming to be the major trigger for it. With children, though, it's believed to be mainly caused by an immaturity of the child's neuromuscular process that controls chewing. As this matures, most children will tend to outgrow the habit none the worse for wear.
But there are pediatric cases in which the generated biting forces are strong enough to cause damage. Teeth grinding is also prevalent in children who snore or breathe through their mouths, which could be a sign of a serious health condition called obstructive sleep apnea. And certain medications used to treat depression and attention deficit disorder (ADHD) may also contribute to teeth grinding.
Most of the time we can simply let the habit run its course. If, however, the child begins to experience abnormal tooth wear, headaches, jaw pain or other issues believed caused by teeth grinding, we may need to intervene. This could include a plastic night guard the child wears during sleep that prevents the teeth from making solid contact during grinding episodes. And children with signs of airway obstruction should be evaluated by an ear, nose and throat specialist.
It can be irritating or even distressing. But your child's teeth grinding doesn't mean you should be alarmed—only that you should keep your eye on it.
If you would like more information on teeth grinding and similar habits, please contact us or schedule an appointment for a consultation. You can also learn more about this topic by reading the Dear Doctor magazine article "When Children Grind Their Teeth."
By Grand Strand Family & Esthetic Dentistry
March 07, 2019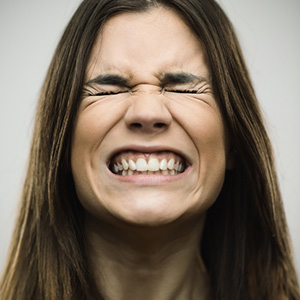 Do you grind your teeth? If you're not sure, ask your family—sometimes the sound of teeth grinding against teeth might make enough noise to be keeping them up at night. You might also be waking with sore jaw muscles and joints.
If you suspect you have this habit of involuntarily grinding, gnashing or clenching your teeth, it's a good idea to get it checked. Here are 3 things you should know about this odd habit.
Teeth-grinding more prevalent among children. Children are more likely than adults to grind their teeth in their sleep, thought to be a consequence of their developing swallowing mechanism, but usually grow out of it without any long-term effects. Adults with the habit seem to grind their teeth for different reasons, one of the most significant being a response to high stress. Tobacco could be another factor: users are twice as likely as non-users to grind their teeth. Adult teeth-grinding may also be associated with high caffeine consumption, illicit drug use or Parkinson's Disease, which impairs brain nerve function.
Sleep apnea can be an underlying cause. There's one other major underlying cause to add to that list: obstructive sleep apnea. One international study of thousands of patients from different countries found both high anxiety or stress and sleep-related breathing disorders were two of the most significant risk factors for adult teeth-grinding. It's believed the physical stress generated by these temporary episodes of breathing obstruction occurring several times a night could trigger teeth-grinding.
Teeth-grinding can cause dental problems. While having a teeth-grinding habit doesn't automatically mean you'll have dental issues, your risk can increase dramatically. Due to its chronic nature, teeth-grinding can lead to excessive tooth wear, dental work damage or jaw joint dysfunction. In some extreme cases, it could cause tooth fracture.
If you grind your teeth, your dentist may be able to help by creating a custom-made occlusal guard that can reduce biting forces while you're wearing it. You might also minimize teeth-grinding by quitting tobacco and other lifestyle changes, or getting a better handle on stress management. And if you're also diagnosed with obstructive sleep apnea, getting treatment for that condition will not only improve your overall health, it could help put an end to your teeth-grinding habit.
If you would like more information on bruxism, please contact us or schedule an appointment for a consultation. You can also learn more about this topic by reading the Dear Doctor magazine article "Teeth Grinding: Causes and Therapies for a Potentially Troubling Behavior."
By Grand Strand Family & Esthetic Dentistry
December 14, 2016
There are a lot of reasons (including a blow to the mouth) why one of your permanent teeth might become loose. The most common: advanced periodontal (gum) disease that has weakened the gum attachment to the tooth.
There's also another, less common reason: you have a grinding habit that's producing higher than normal biting forces. Besides accelerating tooth wear, the constant jaw movement and teeth clenching can stretch periodontal ligaments and loosen their attachment to a tooth.
If the gums are disease-free, teeth grinding is most likely the main culprit for the damage, what we call primary occlusal trauma. Our treatment goal here is to reduce the effect of the grinding habit and, if necessary, secure the teeth with splinting while the ligaments heal. We can often reduce the grinding effect with a custom bite guard worn while you sleep. We may also prescribe minor muscle relaxants and mild pain medication like aspirin or ibuprofen.
Sometimes we may need to perform other measures like re-shaping your teeth's biting surfaces so they don't generate as much biting force. You may also benefit from counseling or other psychological treatment to help you address and cope with stress, a prime driver for teeth grinding.
Even if you don't have a grinding habit, biting forces may still contribute to tooth looseness if you have advanced gum disease. Advanced disease results in excessive bone loss, which in turn reduces the remaining amount of ligaments attached to the tooth. This type of damage, known as secondary occlusal trauma, and ensuing tooth looseness can occur even when your biting forces are normal.
It's necessary in these cases to treat the gum disease, primarily by manually removing plaque and calculus (hardened plaque deposits), which causes and sustains the infection. Once removed, the gums can begin to heal and strengthen their attachment. We may also need to apply splinting or perform surgical procedures to encourage gum and bone reattachment.
Whatever has caused your loose tooth, our goal is to remove the cause or lessen its effects. With your tooth secure and the gums regaining their healthy attachment, we have a good chance of saving it.
If you would like more information on teeth grinding and other potentially damaging oral habits, please contact us or schedule an appointment for a consultation. You can also learn more about this topic by reading the Dear Doctor magazine article "Loose Teeth: Biting Forces can Loosen Teeth."