My Blog
Posts for: February, 2020
By Grand Strand Family & Esthetic Dentistry
February 20, 2020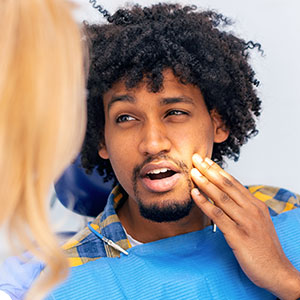 If you have tooth pain, we want to know about it. No, really—we want to know all about it. Is the pain sharp or dull? Is it emanating from one tooth or more generally? Is it constant, intermittent or only when you bite down?
Dentists ask questions like these because there are multiple causes for tooth pain with different treatment requirements. The more accurate the diagnosis, the quicker and more successful your treatment will be.
Here are 3 different examples of tooth pain, along with their possible causes and treatments.
Tooth sensitivity. If you feel a quick jolt of pain when you eat or drink something hot or cold, it may mean your gums have drawn back (receded) from your teeth to leave more sensitive areas exposed. Gum recession is most often caused by gum disease, which we can treat by removing dental plaque, the main cause for the infection. In mild cases the gums may recover after treatment, but more advanced recession may require grafting surgery.
Dull ache around upper teeth. This type of pain might actually be a sinus problem, not a dental one. The upper back teeth share some of the same nerves as the sinus cavity just above them. See your dentist first to rule out deep decay or a tooth grinding habit putting too much pressure on the teeth. If your dentist rules out an oral cause, you may need to see your family physician to check for a sinus infection.
Constant sharp pain. A throbbing pain seeming to come from one tooth may be a sign the tooth's central pulp layer has become decayed. The resulting infection is attacking the pulp's nerves, which is causing the excruciating pain. Advanced decay of this sort requires a root canal treatment to remove the diseased tissue and fill the empty pulp chamber and root canals to prevent further infection. See your dentist even if the pain stops—the infection may have only killed the nerves, but is still present and advancing.
Pain is the body's warning system—so heed the tooth pain alert and see your dentist as soon as possible. The sooner the problem is identified and treated, the better your chances of returning to full dental health.
If you would like more information on tooth pain and what it means, please contact us or schedule an appointment for a consultation. You can also learn more about this topic by reading the Dear Doctor magazine article "Tooth Pain? Don't Wait!"
By Grand Strand Family & Esthetic Dentistry
February 10, 2020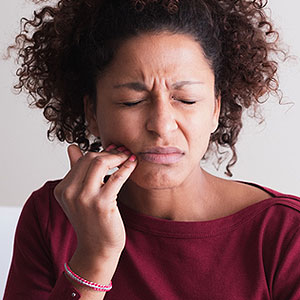 A loose primary ("baby") tooth is often a cause for celebration. A loose permanent tooth, however, is a cause for concern. A permanent tooth shouldn't even wiggle.
If you have a loose tooth, it's likely you have a deeper dental problem. Here are the top underlying causes for loose teeth.
Gum disease. Teeth are held in place by an elastic tissue called the periodontal ligament. But advanced periodontal (gum) disease, a bacterial infection usually caused by film buildup on teeth called dental plaque, can damage the ligament and cause it to detach. If it's not treated, it could lead to tooth loss.
Bite-related trauma. A normal bite helps balance out the forces generated when we chew so they don't damage the teeth. But if a misaligned tooth protrudes higher from the jaw, the opposing tooth will likely create more downward pressure on it while chewing. This can stress the tooth's supporting ligament to the point of looseness.
Self-inflicted trauma. While they may be trendy, tongue jewelry can cause dental damage. A wearer who clicks the "barbell" of a tongue stud against their teeth could be creating conditions conducive for gum damage and bone loss, which can cause tooth looseness. Similarly, taking orthodontics into your own hands could also damage your teeth, especially if you have undiagnosed gum disease.
Genetics. Although you can't prevent it, the type of resistance or susceptibility you inherited from your parents (as well as your dental anatomy) can cause you dental problems. Thinner gum tissues, especially around the roots, can make you more susceptible to gum disease or dental trauma, which in turn could contribute to tooth looseness.
There are things you can do to lessen your chance of loose teeth. Brush and floss every day to remove disease-causing bacterial plaque and see a dentist regularly for cleanings to reduce your risk of gum disease. If you have any misaligned teeth, consult with an orthodontist about possible treatment. And avoid oral jewelry and DIY orthodontics.
If you do notice a loose tooth, see us as soon as possible. We'll need to diagnose the underlying cause and create a treatment plan for it. We may also need to splint the tooth to its neighbors to stabilize it and reduce your risk of losing it permanently.
If you would like more information on tooth mobility, please contact us or schedule an appointment for a consultation. You can also learn more about this topic by reading the Dear Doctor magazine article "When Permanent Teeth Become Loose."