My Blog
Posts for: October, 2014
By Grand Strand Family & Esthetic Dentistry
October 20, 2014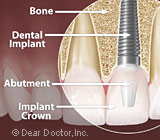 At one time people who had lost all their teeth faced a grim future. With no feasible alternative, their tooth loss severely limited their ability to eat or speak. Their appearance suffered too, not only from the missing teeth but from bone loss in their facial structure.
We've come a long way since then — today, it's possible to restore complete tooth loss with a permanent set of implant-supported teeth. Unlike other options like removable dentures, implantation can stop and even reverse bone loss caused by missing teeth. And because it now only takes a few strategically-placed implants to support an entire fixed bridge of teeth, the implant option is more affordable than ever.
In essence, implants are tooth root replacement systems. The titanium post that is surgically placed within the jawbone is osseophilic ("bone-loving"), which means bone will grow and adhere to it in a few weeks to further secure it in place. A dental restoration — a single crown (the visible portion of the tooth) or an entire bridge or arch — is then cemented or screwed to the implant.
While dental implants for single teeth normally require full bone integration before the permanent crown is set, it's often possible for an implant-supported bridge of many teeth to be set at the same time as implantation. The bridge is attached to four or more implants that support the bridge like the legs of a stool; the teeth within the bridge also act to support each other. Both of these factors help to evenly distribute the biting force, which reduces the risk of crown failure before complete bone integration. You would still need to limit yourself to a soft food diet for 6-8 weeks while the bone integration takes place, but the procedure is essentially completed when you leave the dentist's office.
As marvelous as the possibilities are with implant restorations, it still requires a great deal of planning and artistry from a team of dental professionals to realize a successful outcome. But working together, you and your team can achieve what wasn't possible even a few years ago: a complete set of life-like, fully functional implant-supported teeth — and a new smile to boot!
If you would like more information on implant-supported teeth, please contact us or schedule an appointment for a consultation. You can also learn more about this topic by reading the Dear Doctor magazine article "New Teeth in One Day."
By Grand Strand Family & Esthetic Dentistry
October 20, 2014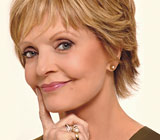 Florence Henderson, star of one of television's most beloved situation comedies, is still actively engaged in a variety of projects at 75-plus years of age. Her bright smile was part of her character as Carol Brady in The Brady Bunch, a popular sitcom that played for five seasons from 1969 to 1974. Though the show was discontinued, syndicated episodes continue to play in the U.S. and 122 other countries.
"I played Carol as the mother I always wished I had," she told Dear Doctor magazine. Her portrayal of mother and wife in a blended family with six children won her the Smithsonian Institution's TV Land Pop Culture Icon Award, which is on display in the National Museum of American History in Washington, DC.
After her successes on Broadway and in television, she was selected for numerous product endorsements, and The Wall Street Journal ranked her #5 in their top ten television endorsers based on viewer satisfaction. One of the products she endorsed was Polident, a brand of denture cleaners and adhesives. However, Henderson has revealed that she has her own natural teeth and does not wear dentures. Her advice to others who want to keep their natural teeth is to pay attention to prevention. "I think the most important thing one can do as with any health issue is prevention," she said. "Flossing, brushing, and regular dental checkups are vitally important if you want to keep your natural teeth."
When she was 22, she says, she had four impacted wisdom teeth removed at the same time. This experience made her aware of the importance of dental care, and since then she has had a checkup every six months. Wherever she travels, she says that she always has mouthwash, dental floss, toothpaste, and a toothbrush on the set.
Contact us today to schedule an appointment to discuss your questions about tooth care. You can learn more about Florence Henderson by reading the Dear Doctor magazine interview "Florence Henderson, America's Favorite TV Mom Has Many Reasons to Smile."